MOVE® over exhaustion, you've got things to do! Our ingredients invigorate so you can reactivate. Perfect that post-workout glow with flavor and energy for a raw-raw-raw-you!
Aronia berries have the highest concentration of anthocyanin and are also high in proanthocyanidins. They are fighters of inflammation, cholesterol and weight gain. They also protect collagen.
Macadamia nuts are lower in Omega-6 fat than other nuts. To compensate, they have more monounsaturated ("good") fat, which also makes them anti-inflammatory.
Almonds pack in nutrients, adding protein and fiber.
Raspberries are antioxidant rich and also have anti-inflammatory properties. Their rheosmin increases fat metabolism.
Four additional SUPERFOOD ingredients balance out this delicious bar.
Contains tree nuts. Cholesterol Free, Sodium Free, Good Source of Iron
Like all B.O.S.S. Bars®, the MOVE® bar has
Simply EIGHT ingredients
The power of raw SUPERFOODS
NO preservatives
NO soy, wheat or dairy
Non-GMO Project Verified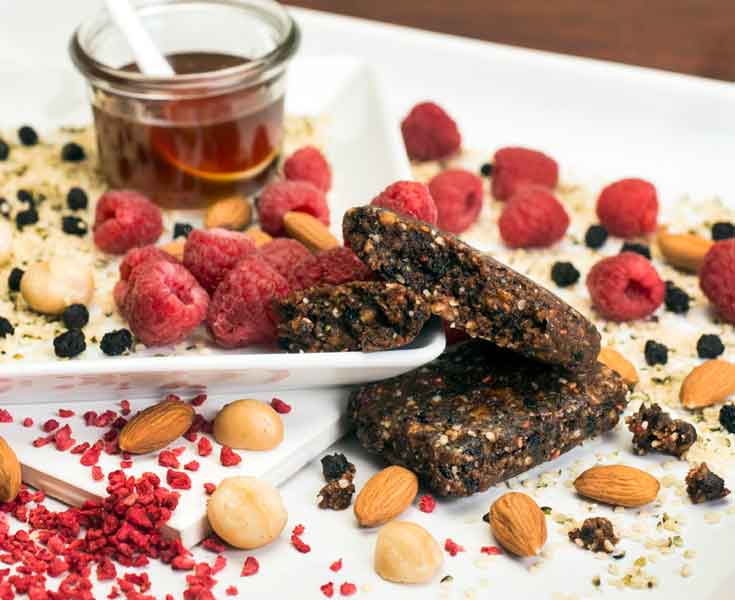 Dates, Organic Aronia Berries, Organic Bananas, Almonds, Macadamia Nuts, Honey, Hemp Seeds, Organic Freeze-dried Raspberries